Nyewood CE
Infant School
Smiling, Caring and Learning Together on a Journey with God
Improving and Improvising...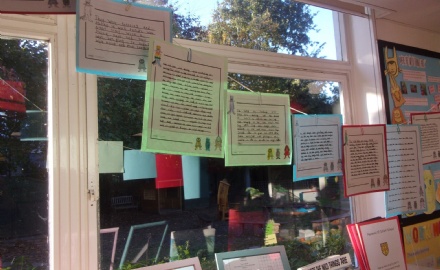 Our first half term in Year 2 is complete!
We have had a busy half term filled with lots of new and imaginative learning and we look forward to see what is to come next half term.
This week we have continued to improve our writing by copying up our drafts in neat. We had to ensure that our spelling was correct and our handwriting was perfect. We love getting to show our amazing work off in the classroom on display! Next time you're in Hazel Class be sure to have a read of our wild rumpus passages; you'll definitely be impressed.
In Mathematics we recapped our Year 1 learning of 2D and 3D shape; we went on a shape hunt around school to see which different shapes we could find. We have also learnt new terms: vertices, faces and edges. See if we can tell you what these mean!
In Music with Mr Mott on Wednesday, we warmed up our voices by using them to improvise and make the noises of different instruments and animals. We then sang the pet shop song that we love and this week we got to sing solo. We have got some great and confident singers in Hazel class.
We hope you all enjoy your half term!
NOTE: After half term we will be getting creative and are in need of some plastic bottles. If you have any at home please keep them and pass them on to the Year 2 teachers. Thanks :)
Next term our PE sessions will continue to be Tuesdays and Fridays. On a Friday we will be taught by a football coach. Please ensure we have a warm and sensible PE kit for football in school.