Nyewood CE
Infant School
Smiling, Caring and Learning Together on a Journey with God
Getting creative!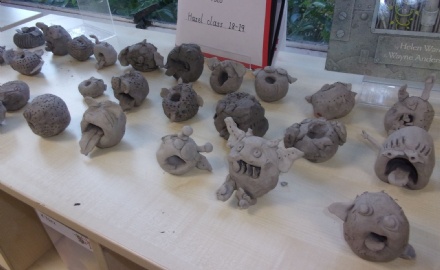 We have had another week filled with creativity and using our imaginations.
We began the week with RE, when we learnt all about the Hindu festival Diwali. We looked at all the different things they do to celebrate including making Rangoli patterns. We then used powder paint and chalk to go outside and create our own Rangoli patterns; they looked very bright and colourful.
In English this week, we have been thinking of our own settings for the story of The Tin Forest. We used lots of different book settings and materials to help us imagine our new setting. We thought of the verbs, adjectives and nouns which could be used to describe our setting too. See if we can tell you our new stories at home.
In Art this week, we used clay to make thumb pot monsters. Every single one looked different, some had 2 eyes... some had 8 eyes! We were excited by this lesson and enjoyed looking at our peers' creations.
This week we learnt all about Remembrance Day and why we celebrate it. We displayed our poppies we made outside of school and then at 11am on Friday we gathered for a 1 minute silence and a prayer.
On Friday, we went outside onto the field for football with our coach. This week we practised our defending skills by playing a few games. We then finished the session with a football match. We have some great team players in our class!
Remember- On Thursday 15th November is our expressive arts afternoon and all Year 2 parents are welcome to join us :)