Nyewood CE
Infant School
Smiling, Caring and Learning Together on a Journey with God
When I grow up...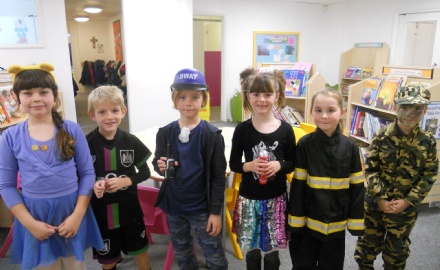 This week has been another fun filled and busy one in Hazel Class.
We have had some very exciting times this week.
On Monday we found out who we will be playing in this year's Christmas play and we had our very first rehearsal. We really enjoyed getting to act out a story we all know very well and were excited by the new songs and hymns we are learning for it. This meant we have started our countdown to Christmas which is only 5 weeks away!!
On Thursday, we had our expressive arts afternoon. We all had an afternoon off timetable and got to take part in an EAD activity of our choice. We had lots of fun and it was great getting to work with some of our adults from home. We made pizzas, sewed elephants, had a clay cake bake-off and choreographed a snow themed dance.
On Friday, we celebrated and raised awareness of children in need by dressing up as something or someone we would like to be when we grow up. We are a very aspiring group... we have future teachers, footballers, doctors and pop stars in our class!! So watch this space!
Hazel Class :)
Note: The winter is beginning to make it feel very chilly outside. Please make sure children have a warm and sensible kit in school for football on Fridays.