Nyewood CE
Infant School
Smiling, Caring and Learning Together on a Journey with God
Snow is falling all around us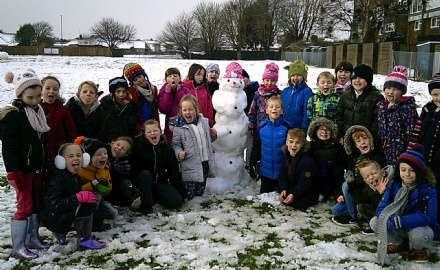 We had a super week which ended with a great snow day at school!!
This week we have begun looking at non-fiction text books about cities and countries. We have chosen our own location we would like to research and have been using our reading time to research and record facts about capital cities, food and landmarks. We are going to use all of this new knowledge to create our very own non-fiction books.
We continued this learning in Art; we have been looking at the work of an artist called Paul Kenton. We used inspiration from his work to create and draw our own images of landmarks from around the world. We look forward to adding a hint of colour in next week's lesson.
Friday was our favourite day of the week. Can you guess why?
...It was a snow day! We woke up to lots of snow and got to share the exciting experience with all of our friends and teachers at school. We started the morning by going out onto the field and building our very own class snowman! It was harder than we thought, we had to think about size, shape and balance but with our great problem solving skills we managed.
We then put our recently learnt throwing skills from PE into action by seeing who could throw their snowball the furthest and used a wall as the target.
We ended the morning by heading inside to warm our chilly toes and fingers and read some books about snow, ice and the winter for inspiration for our independent writing in the afternoon.