Nyewood CE
Infant School
Smiling, Caring and Learning Together on a Journey with God
Once Upon a Time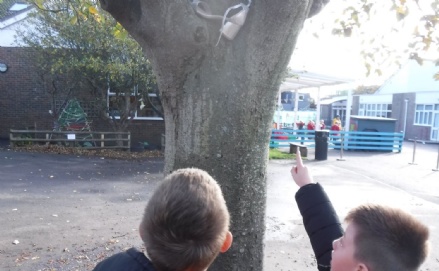 Welcome back, we hope you all had a great half term!
On Tuesday we returned to school for our Terrific take-off for our topic 'Once Upon a Time'. We began the day by going on a treasure hunt on the school playground, we had 10 items to find. We came across a sparkly shoe, a pumpkin and a bowl of porridge. We thought carefully about what these items could be and discovered links to lots of familiar fairy tales. Throughout the day we received letters from anonymous senders, asking for advice, we realised these were from snow white, goldilocks and a few other familiar characters. We spent the rest of the day writing return letters, retelling fairy tales and making puppets.
In Mathematics this week we have been working on securing our understanding of odd and even numbers. We used big hoops and number cards to sort numbers and also practised writing numbers as words.
Well done to everyone that completed a take home task. We loved looking at your creative family trees and learning about your family with you!
Reminder
-PE in Hazel class is now on a Monday and Thursday
- Friday the 13th is crazy hair day for children in need
-Flu vaccine letters need to be returned