Nyewood CE
Infant School
Smiling, Caring and Learning Together on a Journey with God
Do you want to build a snowman?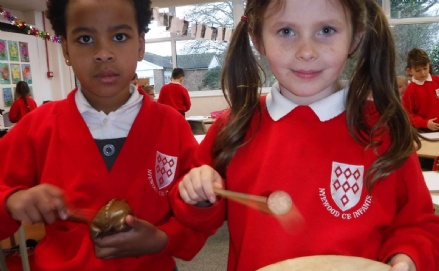 This week in our writing session we have been planning instructions on how to make a snowman. We have thought carefully about which order they go in and the importance of using precise details. We are looking forward to writing our instructions next week.
In our music lessons this week, we read a story called Handa's Hen which is all about a hen that goes missing and on the way to find it they come across lots of different animals including a lizard, cricket and a frog. We used musical instruments to try and recreate the sounds of these animals and used musical language to describe the sounds they made such as loud, soft, quiet and pitch.
In mathematics this week, we have been looking at money. We have been working hard to try and recognise and know the value of all the different coins and notes. We have then been playing shops and combined the coins to make different amounts. If you have any play money or spare change at home, see if we can practice our money recognition with you!