Nyewood CE
Infant School
Smiling, Caring and Learning Together on a Journey with God
Trains, Trucks and Transport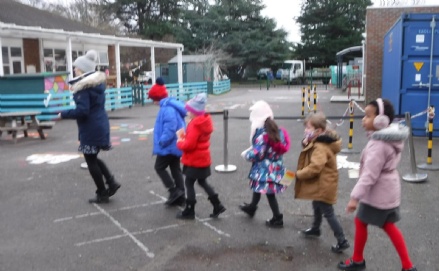 Wow! you have been working hard this week! It has made me really happy hearing all about the exciting you have been doing both at home and at school. Some of you have designed some amazing new types of transport, your imaginations always amaze me! If only some of them were real, maybe they will be one day in the future!
Somebody in school asked me how fast an aeroplane can fly, so we did some research and can you believe it they can go up to 4520 miles an hour! When we see cars going along the road they're usually travelling about 30 miles an hour, what a difference!
Here are some photos of us on our imaginary journeys this week, can you guess which type of transport we were on?
I am excited because next week we will be starting to look at our new focus text called 'Angus rides the goods train', I think you will all really enjoy it.
Everybody is doing a super job at the moment as life is a little different, so I would like you to give your grown ups at home an extra big hug or a super smiley smile, because I know that will definitely give them a smile back!
Enjoy your weekends and I will see you all on here Monday for some new, exciting learning!
Miss Holmes