Nyewood CE
Infant School
Smiling, Caring and Learning Together on a Journey with God
We love science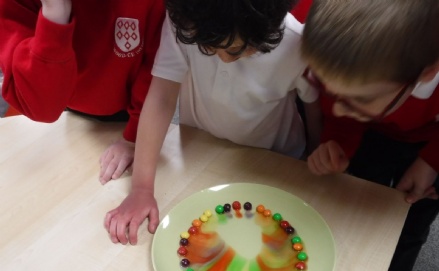 We are so happy to all be back at school. We loved walking in on Monday and seeing all of our friends and teachers, it gave us the biggest smiles.
Our favourite day this week was Thursday as it was a day full of science experiments. We loved making predictions, planning experiments and then recording our findings.
We used skittles and warm water to create a rainbow which fascinated us!
We then made raisins dance which we found very funny! They were still jumping away when it was home time. See if we can explain why they jump about to you.
We learnt all about germs and used a magic UV torch to check how clean our hands were before and after washing. We now all know how to wash our hands to make them as clean as we can. Can you believe a sneeze can travel as far as 3 elephants! YUK!
Notes
-Tuesday 16th March, Hazel Class worship will be posted on the BLOG.
-Woodland time is on a Monday afternoon, please bring a change of clothes
-Wednesday's and Friday's are P.E
-Start of the day is 9:05 for year 1 and 9:10 for year 2
-End of the day is 3:05 for year 1 and 3:10 for year 2