Nyewood CE
Infant School
Smiling, Caring and Learning Together on a Journey with God
Up In The Galaxy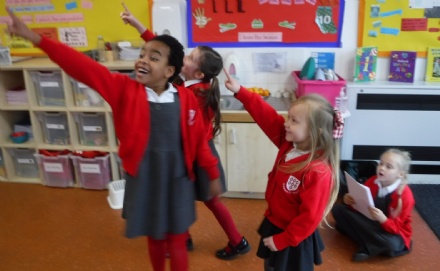 This week we have got ourselves ready for the countdown to Christmas. We have turned our role play into Santa's workshop, and we are all loving using it. We have created our advent calendar and each day when we open a door we are left with one of our drawings and a positive message.
We have been using the Christmas story for our reading and writing lessons, summarising the story and writing about the characters feelings at different points in the story. We have also been very busy practising our Christmas Worship, which we are really excited to share with you on Tuesday. As only one adult from each family can attend on the day, we will be uploading a video of our performance right here! So no one misses out!
In mathematics, we have begun learning about time. This week focusing on time language such as days of the week and months of the year. See if we can recall these in order! We have also been thinking carefully about how many months in a year, days in a week and minutes in an hour. Next week we will be using this to help us read the time on a clock.
In P.E we have been learning lots of different jumping skills, and we have then incorporated them into a space themed dance which you can watch below. We haven't stopped singing the lyrics since we learnt them!