Nyewood CE
Infant School
Smiling, Caring and Learning Together on a Journey with God
Fire Visit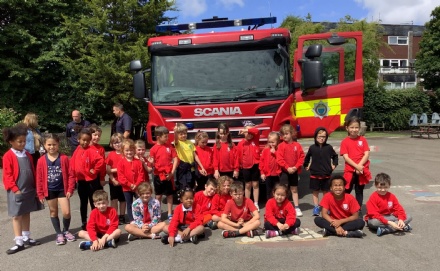 This week has been jam packed with excitement!
On Monday we went across to the juniors and were the year 6 children's first live audience for their end of year production. We really enjoyed it, and it gave us a glimpse of what we will be like at the end of our Nyewood journey.
Then on Monday afternoon, we shared all of our learning from EAD week in an art exhibition, we were so amazed at all the hard work every had done, we definitely have a school full of artists! WOW!
On Tuesday, we had our final terrific take-off for our topic 'One more step along the road I go'. We spent time creating wonderful scrapbooks of all of our memories and shared these with our friends on the field. It was great to see and hear all the happy times we have had at Nyewood so far!
On Wednesday we had a mini transition and not only did we meet our new teachers we went to our new classrooms too. We are all very excited about next year and loved getting to meet new friends.
On Thursday, we had a visit from the West Sussex Fire and Rescue crew from the Bognor station. They came along and spoke to us all about their role, fire safety and the importance of smoke alarms. We then headed outside and took a close look at a fire engine where we had a tour of each and every part, we learnt lots!