Nyewood CE
Infant School
Smiling, Caring and Learning Together on a Journey with God
EYFS Home Learning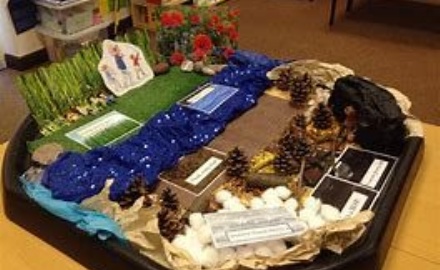 We hope you had fun keeping fit whilst completing your obstacle courses yesterday! We will be continuing with them today…
Reading
Can you create the setting for your favourite story? You might like to use your toys or other household items, draw/paint a picture or use an art app on the computer. Can you label your setting with some key words to explain what it is like there? For example, hot, sunny, pond, …etc.
Writing
Can you write some simple instructions for yesterday's obstacle course that you created?
Go over the…
Go under the…
Mathematics
We would like you to complete your obstacle course again but today we want you to time how long it takes you to complete it! You could use a timer/stopwatch on an adult's mobile phone/device with their permission or you may have a clock with a hand that counts the seconds. Ask a grown up to time you. How long did it take you? Can you beat your time? Can you compete against other people you live with? Who can complete the assault course in the fastest time?
Other Area of Learning
Collect different types of materials from around your home. How would you describe their texture? What do you think they are made of? What could they be used for? Can you make a collage of all of the different materials you can find?