Nyewood CE
Infant School
Smiling, Caring and Learning Together on a Journey with God
Thw True Meaning of Christmas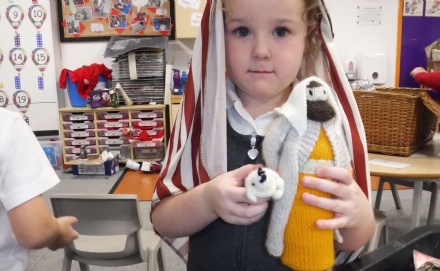 Telling a very important story...
In Holly Class last week, we have enjoyed telling the story of the very first Christmas in our own way.
"I am Joseph and I am holding Mary." says Toby.
"I am holding the shepherds and all of the sheep." says Elsie May.
"I am holding hands with Mary, she had a baby in Bethlehem." says Mimi.
"I remember all of the characters so I am very good at telling the story." says Conor.
Whilst painting pictures of the characters, we talked about the important part they had to play in the story.
Zach says, "I painted Baby Jesus, he is important because he is the son of God.".
Zuzanna says, "I painted the angel, she told Mary that the Baby Jesus was in her tummy.".
Jack says, "I painted Baby Jesus. If we didn't have Baby Jesus, we wouldn't have Christmas.".
George says "I painted Baby Jesus. He didn't have a bed, he was born in a stable".
Hettie says "I painted Mary and Joseph. They are important because they are Jesus' Mummy and Daddy".