Nyewood CE
Infant School
Smiling, Caring and Learning Together on a Journey with God
Change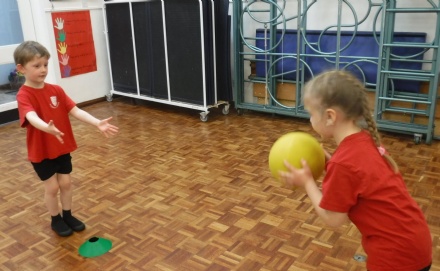 As this week draws to a close, we would like to celebrate some of our learning this week with you. Here in Holly Class, we have particularly enjoyed a fun filled PE lesson and a great Woodland Wednesday session.
In PE this week, we were practising ball control.
We had to carefully move a ball around cones using our hands and then with our feet.
"We played throwing and catching too." said Conor.
"I like football so it was good kicking the ball around the cones." said Noah.
"I liked throwing the ball to my friend and seeing if they could catch it." said Isla.
"To be able to catch we had to keep looking at the person that was throwing the ball. You have to pay attention." said Jacob.
"I liked doing the traffic lights game, I liked it when the teacher said green because you have to jog." said Joshua.
Miss Chandler was prepared for lots of runaway balls but we actually surprised her with our exceptional skill and control.
This week in Woodland Wednesday, we built upon our existing knowledge and discussions we had about the beginning to Spring. We looked out for signs of Spring today.
"I liked going over the hill." said Elsie-May.
"I liked going through the tunnel because it's like all spooky." said Owen.
"We saw frog spawn, they are little eggs and when they hatch they turn into frogs." said Mimi.
"First they start like a little black dot, then it turns into a tadpole and then a frog." said Jacob.
"Yes that, right but they need to grow front and back legs first and then their tail disappears." said Jack.
"I liked going across the bridge, I put feathers in the pond and watched them float." said Toby.
" I drawed a daffodil" said George.
"We saw bluebells too." said Jack.
And now it's Friday 20th March and we might not be together again for a little while. Holly Class, make sure you go and show your families all the learning you have done so far. We are so proud of you all and all that you have achieved and know that your grown ups will be too. We look forward to finding out about the learning you do at home but in the meantime please be sure to check our blog as we will be updating them for you on school days!
Grown ups, thank you supporting us at this challenging time and see this as an opportunity to make more treasured memories with your children.
Take care everyone and stay safe and well. We truly hope it's not too long before we can all be together again and can share all the learning you have done whilst we have been apart.
Miss Chandler and Mrs Smart.