Nyewood CE
Infant School
Smiling, Caring and Learning Together on a Journey with God
Class Blog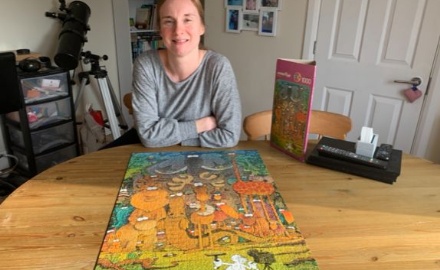 Hello to the lovely Nyewood family, its Mrs Burgess here! I miss you all so much! I have loved reading and seeing your photos on the Facebook page. Please keep sending them in, they really do make me smile, seeing all of your super learning and activities you are doing at home.
I am enjoying the time at home with my family. My children are doing their schoolwork, so I am helping them complete it. I have also been doing some baking! Some successes and some failures, but I keep trying! I really do enjoy doing jigsaws, so I have dug them out of the cupboard! I have completed 4 so far. The biggest one was 1,000 pieces! It did take me a few days to complete it, but I was really proud of myself when I did. I also enjoy reading, which I have been doing lots of. We are lucky to have a garden, so I have been enjoying the sun in the garden, reading my book.
Here is a joke –
Why did the banana go to the doctor's office?
Because he wasn't peeling well!!