Nyewood CE
Infant School
Smiling, Caring and Learning Together on a Journey with God
The Day the Crayons Quit!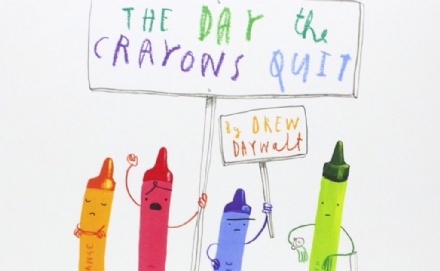 This week our Holly Family have enjoyed our first full week in school and what a week its been!
In Class, we have been reading "The Day the Crayons Quit" by Oliver Jeffers. The book tells the story of why the crayons are fed up! They each write a letter to tell their owner Duncan why this is so.
Each day we read a new letter from a different crayon. So far, we have read letters from Red, Purple, Beige, Grey and White crayons.
Red crayon is over worked:
"He draws Santa and cherries." said Tilly
"...and strawberries and tomatoes." added Victor
Purple crayon likes to be used neatly:
"He draws purple dragons all messy." Marni recalled.
Beige is tired of coming second to Brown crayon:
"He sad he not draw much. He only draw one thing." said Sasha.
Why not ask your child if they can remember why the other crayons quit?
In our choosing this week, we have really got into pirates and made a huge pirate ship in our classroom. We made telescopes, treasure maps and pirate hats to use in our role-play.
In Maths we have been learning to count accurately and match numbers to their corresponding amounts.
Tune in again next week to find out what new, fun things we get up to!