Nyewood CE
Infant School
Smiling, Caring and Learning Together on a Journey with God
All Aboard!!!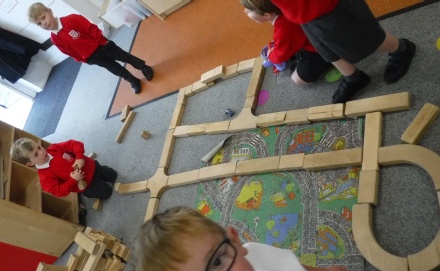 This week our self-initiated learning (SIL) has been all about transport. We have enjoyed using the train set and car play toys to act out scenes and then created our own train that we could sit in!
"Tickets Please!" Tilly called as she visited each carriage.
Soon our adventure led us to the airport and some of us turned the train into an aeroplane.
Meanwhile inside, we enjoyed making a road way for the emergency vehicles out of wooden blocks. We thought about the size and shape of the blocks we needed and made parking bays for each vehicle by measuring them using masking tape.
"We need a sign to show where the police car parks" said George.
This led to some of us using our mark-making skills to create parking symbols/signs.
In maths this week, we have been thinking about 2D shapes and using shapes to make our own pictures.
Our reading skill this week has been "Making Connections." You can help your child at home, by asking them some of the questions from this section of the EYFS Newsletter sent out at the beginning of term when you read together.
Our sound of the week is 's'. Can your child think of words beginning with that sound? They might like to draw a picture of these items.