Nyewood CE
Infant School
Smiling, Caring and Learning Together on a Journey with God
Happy Half Term!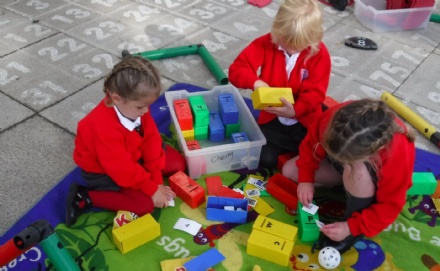 Wow, what an amazing start to our learning journey...
What can we say? From pirates to trains, monsters to emergency services, and finally castles, it's certainly been a busy start to the term with unlimited opportunities for learning through our play.
We have so much fun throughout first half term in school. Here are some of things we have enjoyed the most...
"playing outside with the wooden bricks" says Rowan.
"making obstacles courses outside" says Charlie.
"drawing and writing on the big whiteboard" says Alexis-Blue.
"drawing" says George.
"Making the castle was good" says Caleb.
"I like the lunches" says Isla.
Wow...not only this, we have also started to learn our letter sounds too - s, a ,t, p, i, n. You might like to help us over half term, by using this sounds to play I spy or making simple 2 or 3 letter words such as it, at, pin.
Note from our grown ups...
You may also have noticed that two more grown ups have joined our Holly family. These are Miss Warwick and Miss Oliver both student teachers from the local university. We look forward to welcoming them back after half term until Christmas.
Finally, thank you for all of your support this half term. Enjoy some rest over half term and we look forward to welcoming you back in November.