Nyewood CE
Infant School
Smiling, Caring and Learning Together on a Journey with God
Celebrating Our Differences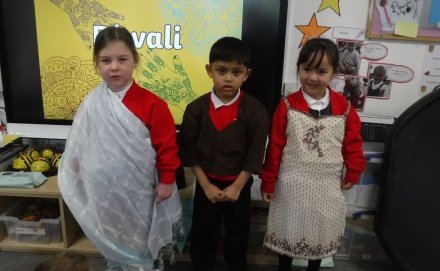 This week we have been learning about the similarities and differences between ourselves and others. On Thursday, we explored the Hindu festival of Diwali (celebrated on Saturday 14th November). We found out about their clothes, traditions, food, music and dance and explored making Rangoli patterns and Diva Lamps.
"They have fireworks like we do at Bonfire Night." said Poppy
"They put lights outside their house to show Sita the way back home." added Alexis-Blue
If you would like to find out more about Diwali, please visit the CBeebies website:
https://www.bbc.co.uk/cbeebies/watch/lets-celebrate-diwali?collection=lets-celebrate-celebrations
On Friday, we helped to raise money for Children in Need by coming into school in non-uniform and with a crazy hair style or hat. We talked about children in our own country and around the world that might need our help and how our money is used to make their lives better.
"Some people are poor and need money for clothes and food." said Caleb
"Some children are sick and need help to get better." added Emily.
This week week...
Sound of the Week: m
Word of the Week: no
Numbers of the Week: 11 & 12
Super Six Reading Skill: Making Connections