Nyewood CE
Infant School
Smiling, Caring and Learning Together on a Journey with God
Working Collaboratively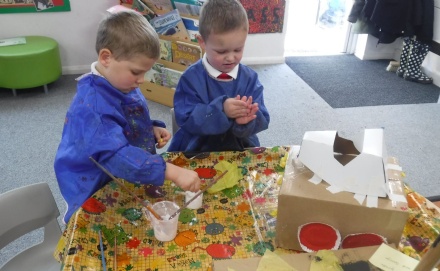 This week during our Creative time, we have been learning how to work as a team to create junk models. We have been using our communication skills to listen and respond to each others ideas and to adapt and change our models when something doesn't go quite to plan.
We have really got into finding out about minibeasts after we dug in our vegetable patch and found lots of worms, meal worms and centipedes. We estimated how many worms we had found before counting the actual amount.
In Literacy, we realised that we are ALL writers! By using our phonics skills we can hear and say the sounds we want to write out loud and then use sound cards to help us record the letters in the right order. We have written labels for our models and made shopping lists.
In Mathematics, we have had great fun estimating how many objects we can see before counting them. We are getting really good at making a sensible guess. we have been working hard on making sure we count accurately by touching each object as we say each number.
This week, we have also started thinking about our Christmas worship and the true meaning of the Christmas festivities that will soon be here. We cannot wait to get cracking with our Nativity video next week! Stay tuned for the premiere on Thursday 3rd December!
Sound of the week: d
Word of the week: into
Numbers of the week: 13 & 14
Super 6 Skill: Visualising