Nyewood CE
Infant School
Smiling, Caring and Learning Together on a Journey with God
What a Wonderful Woodland Wednesday!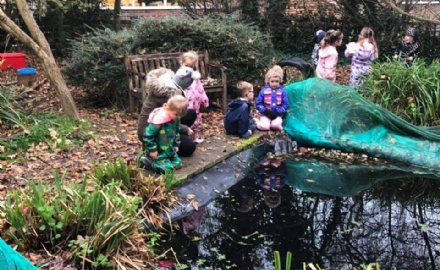 We have had such a fantastic week but the highlight has got to be our Wednesday afternoon experiencing Woodland Wednesday at Nyewood for the first time!
We had great fun exploring the Nature Area, looking at minibeasts and their habitats, building dens and making fir cone bird feeders. Mrs Merrick said that no sooner had we gone back inside, than the birds flew down and started feeding from them! They are really easy to make. All you need is a fir cone, some lard, bird seed and some string. Why not ask your child to teach you how to make on at home?
In Mathematics, we have been thinking about everyday words linked to time, such as the seasons, days of the week, months of the year etc. At home you might like to talk about what time you do things as a family e.g. "We wake up at 7 o'clock in the morning."
In Writing, we have been thinking about the order of the sounds in simple words to help us with writing them correctly. Once we had a bank of words, we then moved on to thinking about the order of words in short captions and tried writing these down using words from our word bank.
We also spent Tuesday "on set" filming our Christmas Nativity Worship. We dressed as the characters from the story and acted out scenes on our school grounds. We cannot wait to share this with you next week! Here is a sneak peak at what we got up to...
Our "...of the week" Learning:
Super 6 Skill: Summarising
Sound of the week: g
Number of the week: 15 & 16
Word of the week: recap - your child should now be able to read these words by sight; I, a, no. to, go, into, the.