Nyewood CE
Infant School
Smiling, Caring and Learning Together on a Journey with God
It's beginning to look a lot like Christmas!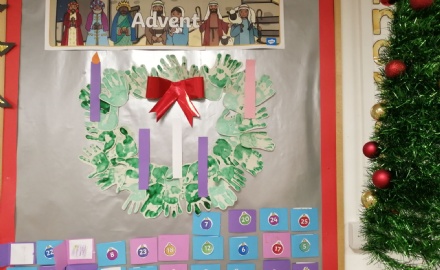 The Christmas preparations have begun in Holly Class this week!
On Tuesday 1st December, we had our EYFS Advent day where we learnt about how Christians prepare for Christmas. We learnt that Christians also count down the weeks until Christmas day by using an Advent wreath. They light a candle on each Sunday of Advent. Each candle represents something different. As you can see from our picture above, the first candle has been 'lit'. It symbolises hope.
"Christmas is about Jesus being born." Alexis-Blue explained
We also decorated our classroom and made paper chains, using repeating patterns and using our fine motor control to join the strips of paper together. Victor made one all by himself which was as tall as Mrs Smart!
We also made Christmas cards, a gift and an Advent bag to bring home all our Christmas crafts at the end of term once they have been quarantined.
In other news....
This week we shared our Christmas Worship with you and our maths learning this week involved sequencing the events of this story. We then used our story-telling skills to act out the events before putting pen to paper and writing our own versions of this story.
Our '..of the Week' Learning:
Super 6 Skill: Questioning
Sound of the week: o
Number of the week: 17 & 18
Word of the week: your child should now be able to read the following word by sight: a, I, the, go, to, into, no