Nyewood CE
Infant School
Smiling, Caring and Learning Together on a Journey with God
He's Behind You!!!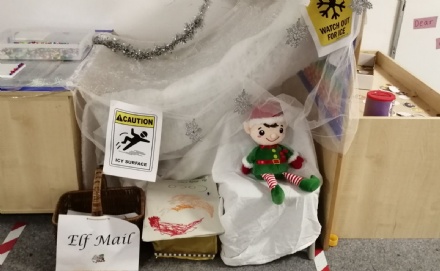 On Monday, the children got to enjoy a fantastic virtual pantomime of Jack and the Beanstalk. With a bit of help from the adults, they joined in happily with shouts of "Oh no he didn't" and "He's behind you!". It was lovely to see the children relaxing after all their hard work this term.
We saw a new family member join our Holly Family this week. Meet Coco the elf who has come straight from the North Pole to find out what Holly Class are up to. We have continued our learning about story writing this week and have written some fabulous stories all about Coco and his friends who are no doubt causing lots of mischief in many homes this Christmas season!
In Mathematics we have been creating and describing patterns. We have printed coloured patterns to make our own wrapping paper, designed candy canes and decorated Christmas trees with coloured baubles.
This week we said a sad farewell Miss Oliver who has been working in Holly Class for the last 7 weeks. We would like to wish her every success as she continues with her PGCE year. The children have loved having her calm presence in class and we will miss her terribly.
Super 6 Skill: Monitoring
Sound of the week: c
Number of the week: 19 & 20
Word of the week: revisit all Phase 2 words - I, a, to, go, the, into, no