Nyewood CE
Infant School
Smiling, Caring and Learning Together on a Journey with God
We Wish you a Merry Christmas!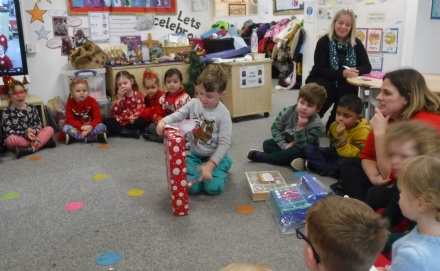 Well that's it! Our Holly Family have completed their first full term in school and what a term it's been! We have been amazed by just how much the children have achieved in such a short space of time, given that they had very different starting points when they arrived in September!
We have ended our final week of the Autumn Term with our Christmas Party day and, although Father Christmas was too busy to pop in and see us, he sent us a video message and gave us a class gift of a new till, tea set and car set which we have enjoyed using in class. Whilst we had great fun during our party day, playing games, dancing and eating Christmas dinner together, we have spent our final day thinking about why we celebrate and have so much fun at Christmas time.
As a treat from the Holly Class grown-ups, we watched a film called The Star which tells the Christmas Story from a donkey's point of view.
In Literacy, we have been learning how to write lists linked to Christmas presents. In Mathematics, we have been learning the names of 3D shapes and trying to guess which shape is wrapped up inside each present.
This week we also got to have our class reward for the best attendance in the school this term. Here we are toasting marshmallows on the camp fire.
It is with sadness, that we say goodbye to Miss Warwick this week. She has been with us for the past 8 weeks and we have loved her creative ways of teaching us. We wish her every success as she continues her PGCE year.
The Holly Family would like to thank you for your continued support during what has been a strange term for all of us. We wish you all a Merry Christmas and hope you manage to celebrate the season safely with your loved ones. Please do keep safe and we look forward to seeing you all in the New Year.
Love from
The Holly Family
xxxx