Nyewood CE
Infant School
Smiling, Caring and Learning Together on a Journey with God
Hello Everyone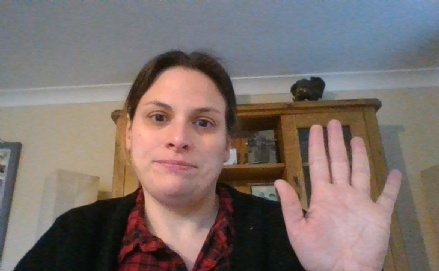 Hi Holly family, Miss Chandler here.
What a crazy couple of weeks it has been but I must say you and your families have been absolute superstars. I hope you have enjoyed the video clips I have been sending and hopefully they have helped with your learning at home. I have been working from home this week too, so we are still very much learning together just in different ways.
I have spoken with Mrs Sheppard and she tells me that the children in school have been extremely busy being dinosaur explorers. They have created a map with dinosaur footprints and made nests, bones and volcanoes. Who knows what our classroom is going to look like on our return? I am imagining it could look like something from Andy's Dinosaur Adventures. Do you watch that programme? My daughter and I sometimes watch it together.
When our friends aren't being dinosaur explorers, they have been practising skills that you have been doing at home. Just like you, Mrs Sheppard tells me that they have worked hard on practising their long ladder letters and done some careful counting in maths. They have also enjoyed reading and sharing books with grown ups each day. One of our friends even spotted the word of the week in her reading book? Did you spot it in yours too?
I cannot wait to see and hear about what learning you have been doing at home. I am especially looking forward to seeing your writing from the assignment we set this week.
Well, that's all from me for now, I miss seeing all of your smiley faces and look forward to when we can come back together in school again. In the meantime, I wish both you and your grown ups a well deserved relaxing weekend.
Keep safe and stay well.
Love from Miss Chandler xx