Nyewood CE
Infant School
Smiling, Caring and Learning Together on a Journey with God
Hello from Mrs K!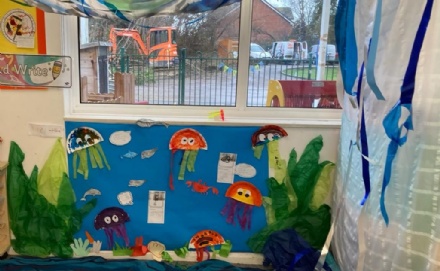 Hello Holly Class!
Hope you are all well. You are doing a fantastic job at your homes. It is lovely to see so many photos of your amazing learning.
In school this week we turned our classroom cafe into a pizza restaurant. We have made our own pizza oven, we prepared our favourite pizza toppings and we set up a table in a restaurant for customers. Some children enjoyed making and baking pizzas whilst others enjoyed coming to the pizza parlour.
What is your favourite pizza?
Also this week, the children in school chose to learn about sea life. We have been reading books and finding information about different sea creatures. We enjoyed reading the story Clumsy Crab by Ruth Galloway. Here is a link if you would like to watch it too:
The children have been extremely creative making their favourite sea animals. We worked very hard to make our Holly class sea life display and a place where children enjoy playing mermaids and sharks.
Bear said: "My favourite sea animal is a sea snake. He can bite you, but he eats only fish."
Florence said: "My favourite sea creature is a seahorse."
What is your favourite sea animal? Can you draw a picture or make a junk model of your favourite sea creature?
Here is my sea themed joke for you:
​
What do sea monsters eat?
Fish and Ships!
I hope you have a lovely weekend with your families.
Stay safe and have lots of fun!
Love from Mrs Kujawa xxx