Nyewood CE
Infant School
Smiling, Caring and Learning Together on a Journey with God
Hello fom Mrs Smart!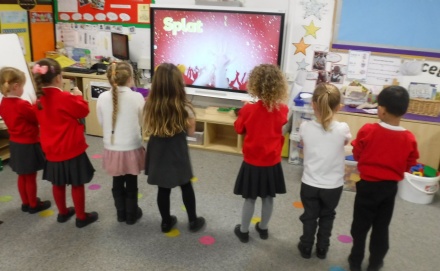 Hello Holly Family!
My goodness I am missing you all sooooo much! I hope you and your families are well. We have nearly made it to half term!!! Miss Chandler and I have been speaking to your grown-ups when we call you and lots of them have told us that you are finding it tricky to keep up the hard work. Please, please, please keep going with all your wonderful learning! We have looked at every single piece of work that has been sent in and we are so proud of everything that you are doing! Work hard for your grown-ups for one more week and then you can all have a half term rest!
In school this week, we too have been learning about the more and fewer in maths. It's a strange word 'fewer' and lots of us were getting muddled by what it means - less.
The photo above, is of us playing Disco Dough. You have to dance about, with a piece of playdough in your hand and follow the instructions when they appear on the screen. It says words like "squash", "splat", "pinch" and "twist".
Yesterday we made a bug hotel which we are going to put outside in our garden plot to see if any creatures choose to use it as a home...fingers crossed!
We loved watching the fireman's video last week, so our fire-fighting role-play is back up and running! Do you remember last term when we made a fire engine out of crates and tyres and made buildings out of the blocks outside? We pretended to put the fires out with the hose didn't we. If you have a garden, you might be able to do this with a real hose and water if you ask your grown ups first.
This has lead on to us making a doctor's surgery to care for any injured patients. We have been using our writing skills to write doctor's notes and prescriptions. We have thought about lots of people in our community that help us this week and plan to carry on next week when we add a police station outside.
Last week, we took part in the RSPB bird watching week. We chose to make some bird feeders this week to make sure that the little birds we spotted have plenty of food in this cold weather. Here we are with Miss Chandler make some.
I hope you have had a good week too. Keep up the home-learning!
Love from Mrs Smart xxx