Nyewood CE
Infant School
Smiling, Caring and Learning Together on a Journey with God
Hello from Miss Chandler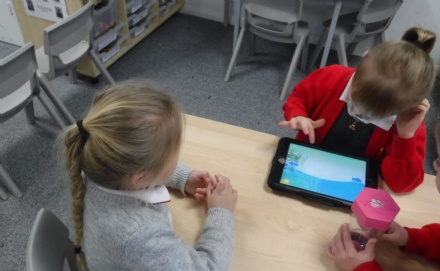 Wow, what a half term it has been! I can't believe that next week is our first half term break of 2021, where have the last few weeks gone?
Hopefully you have all managed to keep safe and well. Mrs Smart and I have been super impressed with all the learning you have been doing at home with your grown ups so a big thank you and well done.
This week I have busy filming videos to share with you from home whilst Mrs Sheppard has been looking after the few members of our Holly family who are in school.
I hope you enjoyed Safer Internet Day this week and will remember Smartie's important rules for keeping safe online. Did you manage to remember his song/ chant? The children in school also listened carefully to Smartie's story and like you made paper chains to remind them of people they can trust. They then enjoyed using the ipads to play games online.
Did you enjoy my maths story about positional language? I had lots of fun doing it. It took a few rehearsals I can assure you. I wonder if you managed to make up your own story using your toys from home? Or maybe you tried one of the other activities?
Once again, thank you so much for all of your hard work this half term. I look forward to seeing you after half term for the first of our live story sessions... I can't wait. I am already thinking about what story to share with you as I have so many favourites!
In the mean time, have a wonderful half term and ensure that both you and your grown ups take the time to do something you enjoy and makes you feel happy whilst staying at home. I think I might do some more baking and try creating something new...I'll let you know how I get on. Oh and don't forget next week it's Shrove Tuesday... PANCAKE DAY... Yummy!
Take care Holly family and hopefully I will see you very soon.
HAPPY HALF TERM!
Love from Miss Chandler