Nyewood CE
Infant School
Smiling, Caring and Learning Together on a Journey with God
Comic Relief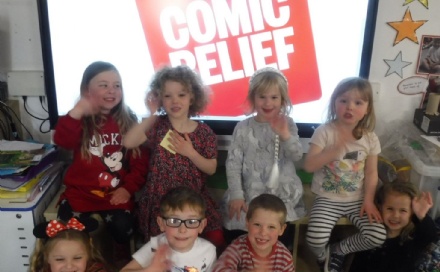 The days just seem to fly by in Holly class at the moment! We have had another lovely week together with the highlight being today for Comic Relief.
We dressed in red and spent the afternoon having fun trying to make each other laugh!
"What is a kitten's favourite food?....MICEcream!" said Tilly.
Alexandra had us in fits of laughter as she tried to burst a balloon with her bottom!
This week we have been thinking about how to keep healthy. We made fact books about healthy food and took part in some circuit training including squats, shuttle runs, planking, and tricep dips.
In Mathematics, we thought about 1 more and 1 less and used objects to help us work out 1 more/less than larger numbers.
During Forest Friday, we made journey sticks where we tied natural objects to a stick to track our route around the Nature Area. The frogspawn on the pond is still there and we learnt the differences to look for between toads and frogs.
"Frogs have skin between their toes to help them swim." explained Charlie
"Frogs have long legs for jumping high." said Alexandra.
"Frogspawn looks like a bunch of grapes. Toadspawn looks like a bead necklace." recalled Alexis-Blue.
This week we have also been busy filming part of our Easter worship which we will be sharing with you very soon.