Nyewood CE
Infant School
Smiling, Caring and Learning Together on a Journey with God
Helping Others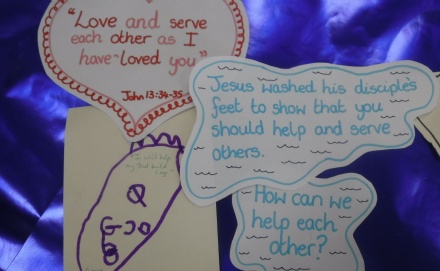 This week we have been continuing with our learning about the Easter Story. We listened to the part about the Last Supper and how Jesus shared a special meal with his friends the 12 Disciples.
"They had wine and bread." said Rory
"They all shared it because they were friends." added Erin.
Jesus asked the disciples to remember his body and blood when they ate and to think about the huge sacrifice Jesus made because he loved them. We learnt how Jesus washed each of his disciples feet to wash away their sins and to show that it doesn't matter how important you are, we should serve and help each other. In choosing time we thought about how we could carry on Jesus' wishes by helping those around us. We drew around our feet and drew pictures of how we plan to help each other.
"I will help people with their letters." said Tilly
"I will help my sister." said Marni
" I will help Mummy make the food," said Connor "but not the hot stuff. Mummy doesn't let me do the hot stuff."
In PSED, we have been thinking about feelings and behaviour. Lots of us are feeling many different emotions at the moment so we learnt about how our bodies look when we are feeling different emotions and how we can make choices to support each other.
"This man is happy. I smile to make people feel happy."
"This lady is confused. She looks like this and is thinking I don't know how to do something."
In Mathematics we have been using our balance scales to compare the weights of different objects and predicting which is heavier our lighter. A home you could order some everyday items from heaviest to lightest too!
In Literacy, we have been writing sentences, thinking carefully about capital letters, full stops and finger spaces. This helps people to be able to read our work clearly.
Sound of the Week: x
Word of the Week: her
Maths of the Week: heavy/light, heavier/lighter, heaviest/lightest
Super Six Skill: Summarising