Nyewood CE
Infant School
Smiling, Caring and Learning Together on a Journey with God
A Terrific Take-off into the Summer Term!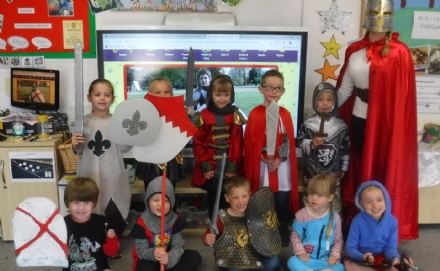 Hello and welcome back to our final term working together as a Holly Class Family! Ithas been wonderful to start the term with everyone back together.
Wow, what a fantastic four days we have had! The children have come back refreshed, happy, excited and eager to learn!
On Thursday we welcomed a new family member into our school. We watched online as a little boy hedgehog moved into his new home in our nature area. He has his own hedgehog house and run where he will stay for the next week or so to get familiar with his new home. After that, the pen will be removed and he will be free to raom. We thought about what we should call him and came up with some great names:
Spike - Tilly
Sonic - Alexis-Blue
Ball - Caleb
Peanut - Marni
Flash - Charlie
We took a vote and have put forward the name Sonic to the school vote. Watch this space to find out the final decision on his name next week!
On Friday we came in dressed as knights, dragons or in red and white to celebrate the English festival of St George's Day. We learnt about the English flag, English landmarks, traditional English food and even had a go at Morris dancing! We decorated our own coat of arms and retold the story of St George with our friends.
This week in Literacy we have been thinking hard about the sounds in words and have tried writing sentences for different subjects. In Mathematics, we have been reciting our numbers to 20, ordering numerals and using Numicon to represent different numbers.