Nyewood CE
Infant School
Smiling, Caring and Learning Together on a Journey with God
Making Promises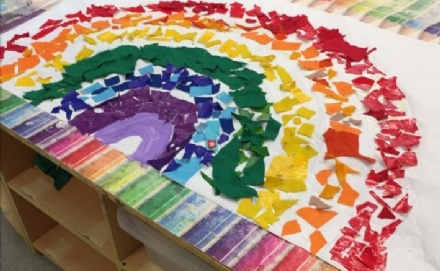 This week we have been thinking about how our school vision feeds into everything we say and do at school.
Smiling, caring and learning together on a Journey with God.
"We smile at each other. God wants us to make each other happy." said Tilly.
"We look after each other." added George.
"If someone needs help we can help them to learn." said Emily.
We have promised ourselves and each other that we will work together to keep our school vision.
In Mathematics this week we have been thinking about how we count objects accurately so that we don't lose count. We looked at the book called "One is Snail, Ten is a Crab." in this book, the author builds numbers by adding the amount of feet that different creatures have e.g. 7 is and insect (six feet) plus a snail (one foot). We have started building a numberline to show this and some of us had a go at making our own addition sentences using this idea.
In writing, we have been working on trying to read our own work back and talk about what we have written to check that it is clear to others who might want to read it. Sometimes when we are writing, we forget that our writing has to make sense and so checking that we can read it back is an important step in our writing journey.
During Well-being Wednesday this week, we thought about the NSPCC's "Pants" message. We talked about how our underwear and swimming clothes cover up the private parts of our body and learnt that these areas should not be shared with other people.
It was our turn to feed Herbie the Hedgehog this week. Lily kindly brought in some cat meat pouches, and so we put them out for him to enjoy. He really did enjoy his dinner as it was all gone the next morning!
We have now finished all our filming for our class worship next week. We hope you are looking forward to seeing our learning from the past few weeks. We have been working very hard!