Nyewood CE
Infant School
Smiling, Caring and Learning Together on a Journey with God
Holly Zoo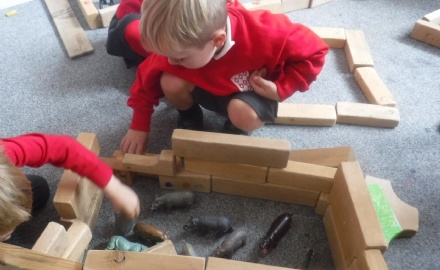 Hello! We cannot quite believe how quickly this first full week has whizzed past! The children have continued to amaze us with how well they have settled into school life and have coped with the longer days this week.
On Monday we started our Phonics lessons and the children got to meet Sam Cat our whole school puppet who comes out during Phonics lessons. The children have had great fun training their ears to identify different sounds, match the sounds made by instruments, copy a friends' beat and explore different volumes. Here they are exploring loud and quiet sounds by playing their instruments and following Sam Cat's instructions.
This week, the children have shown great interest in the world around them. Some explored what objects float and sink in the water tray. Some thought about the people in our community as they acted out "real life" scenarios with the dolls and doctors kits. In Holly Class there has been real team effort made to create a zoo using our building blocks.
"The lions need their own enclosure so they don't eat the other animals." suggested Leo.
"Some animals eat meat and some eat plants" added Phoebe as she decorated pieces of paper in red (meat) or green (plants) to add to each enclosure.
"We can use this bath for the rhinos to drink from," said Zachary "and we need to build the leopard walls three (blocks) high coz they're good at climbing.
It has been a busy week in our Holly Family and we are now getting ready to start our Harvest learning next week. Have a great weekend everyone!