Nyewood CE
Infant School
Smiling, Caring and Learning Together on a Journey with God
Dingle Dangle Scarecrows!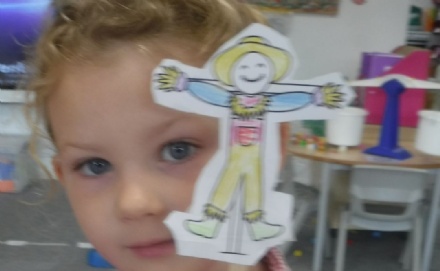 Four new friends arrived in Holly Class this week! A family of scarecrows! We have enjoyed learning a scarecrow song and a scarecrow rhyme, which we will share online with you during our Harvest Worship on 4th October.
We have also made our own scarecrows and lolly stick puppets.
"My one is really big so if the crops grow tall the scarecrow can still see over the top." explained Reuben.
Also this week as part of our Harvest celebrations we have explored sequencing fruit and vegetables by size and weight. Vegetable printing was great, messy fun and we tried really hard to count each print we made with our vegetable.
"1...2...3....4..." Phoebe said as she carefully printed using a celery stick.
Reading at home - Please remember to read the books in your child's bookbag at least four times per week. In school they will read with an adult and have their books changed once per week. Slowly we will encourage the children to become more independent and change their own books, but please bear with us as training nearly 90 children to change their own books takes time.
Next week is our International Week. As a year group we will be studying the country of Poland as we have Polish children in each class. We will compare this country to the country in which we live, Enlgand. If your family has links to other countries, we would very much like to celebrate the cultural diversity in Holly Class, so please send in photographs, momentos, flags, money etc for your child to share with the class.
Also, please can we kindly ask that you do not let your child play with the resources set up outside in the mornings, as we have had a few items get broken/lost before school and this impacts on their learning. Many thanks, The Holly Familly xxx