Nyewood CE
Infant School
Smiling, Caring and Learning Together on a Journey with God
One Small Step For Man!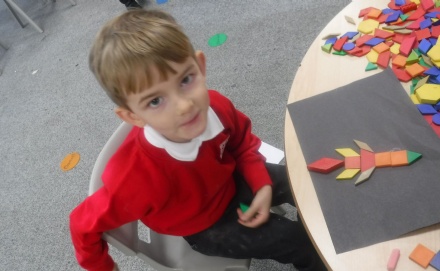 Firstly, we want to say a huge thank you to all those families that were able to come in and share our learning this week. I was wonderful to finally have parents and carers back in school! We loved sharing our Pie Corbett inspired story-telling with you!
We have continued our learning about Whatever Next this week by thinking about what it is like to be on the moon.
We watched a video clip of the first moon-landing and practised our own slow motion moon-walking skills! After listening to a piece of music depicting the first moon landing, we began to make up a class dance to show this. Next week we will move the dance on to an alien invasion!
We have looked at images of the moon's surface close up and have used our words to describe this;
"it's like a ball." said Bonnie
"It's got holes in it." observed Dolly-May
"They are called craters." added Reuben
"It's bumpy." said Phoebe.
This week we have been using out Phonics skills to try and label diagrams/pictures of the moon, planets and astronauts. In Mathematics, we have been counting collections of objects and finding how many there are altogether, which has the largest amount and which has the smallest amount.