Nyewood CE
Infant School
Smiling, Caring and Learning Together on a Journey with God
Aliens Love Underpants!!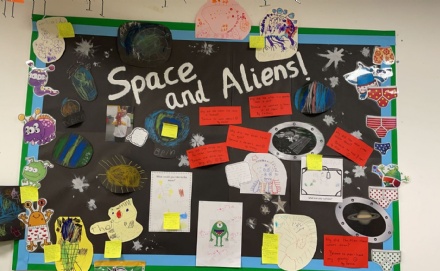 For the past fortnight we have really enjoyed learning about space and using our imaginations to create aliens linked to the story "Aliens Love Underpants!"
In Phonics, we have been trying to read alien names using our phonics skills to sound out and blend the letters.
"K-e-t...Ket! My alien is called Ket!" exclaimed Alex.
We have used the medium of chalk on black paper to create our own space scenes and have enjoyed reenacting/retelling the story using props and new vocabulary such as 'bloomers', 'long-johns' and pants-tastic".
We have designed our own aliens and talked about the features we used e.g. "My alien has 8 eyes and four legs"
In Mathematics, we have been understanding how to make amounts up to 5 using words such as 'add/plus and equals'.
If you would like to share this story at home, follow the link to this video:
Aliens Love underpants - Books Alive! Read Aloud book for kids - YouTube