Nyewood CE
Infant School
Smiling, Caring and Learning Together on a Journey with God
World Book Day and Pancake Day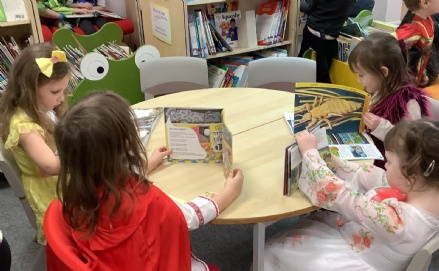 What a busy week it has been!
We celebrated Pancake Day on Tuesday to launch the Christian festival of Lent. As part of this we had pancake races and obstacles with some greedy seagulls cheering us along!
We also learnt how to make pancakes and got to taste them. They were delicious. Many children in Holly Class gobbled them up with lemon and sugar toppings.
On Thursday, was World Book Day. We had great fun dressing up as book characters and redesigning our class book area. After taking a trip to KS1 to visit the school library, we returned with lots of new and exciting books. We chose both stories and non-fiction as well as dual language books in Polish and Bulgarian. Our reading area is now kitted out with reading challenges too to help us improve our decoding skills!
On Friday, we had our very first PE lesson. We learnt the rules of being in the large hall space and played lots of games to help us get used to finding a safe space to work in. We balanced cones on different body parts and tried really hard not to drop these whilst travelling around the hall. We also played a game called cones and dishes which was great fun.
Just a reminder to please return any sponsorship money to the office for our Nyewood Readathon please. Thank you for your donations! They will be greatly appreciated!