Nyewood CE
Infant School
Smiling, Caring and Learning Together on a Journey with God
Female Role-Model Day and Comic Relief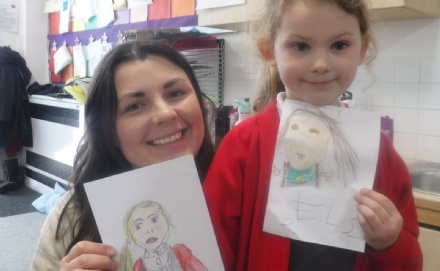 What a busy week we have had in Holly Class!
We really enjoyed welcoming some of our mums and grandmas into school on Tuesday. We had great fun showing them our learning, sharing our special learning journals and creating portraits of each other. It was so lovely to see so many of you!
We have been busy exploring our new theme this week of Under the Sea. In PE, we are creating a dance which represents lots of different sea creatures. In out classroom, we have made and aquarium packed full of different sea life and even have an octopus swimming around on the ceiling! As well as sharing our creativity, we have also been finding out about habitats and facts about different sea creatures.
In Mathematics, we are learning about doubling and halving using numbers to 10. Ask us to show you our magic doubling fingers! We have learnt that half means that objects are shared fairly and equally into two groups.
To end our week, we have been thinking about real life superheroes, the people in our community that help us. We enjoyed dressing up as these superheroes and role-playing throughout the day.