Nyewood CE
Infant School
Smiling, Caring and Learning Together on a Journey with God
Magic Maths!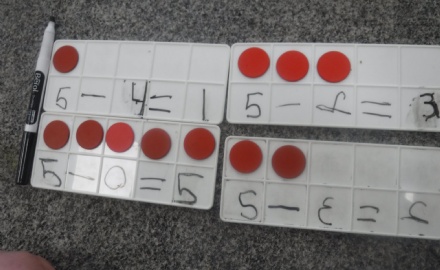 In Holly Class, we love to show off our magic maths skills. This week we have been practising our hand tricks to turn two separate numbers into one total to 5. To do this trick, you need to put a set of fingers up on one hand and, on the other hand, then corresponding number to total 5 e.g. a 4 and a 1.
"4 add 1 mmmaaakkkeees (bring your fingers together and when they hit, show 5 fingers on one hand as the total) 5!"
We can perform this trick for all the number bonds to 5. We are now beginning to be able to say the subtraction facts for numbers to 5 too. This week, we have enjoyed using tens frames and counters to solve and write our own subtraction bonds.