Nyewood CE
Infant School
Smiling, Caring and Learning Together on a Journey with God
Magic Beans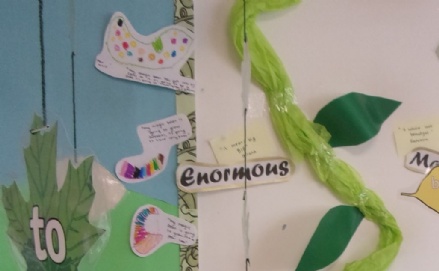 Well what an exciting start we have had to the new term in Holly Class. Last week we received a video message from a boy called Jack. He told us he had taken his cow to market to sell her but instead of getting money for her, he exchanged her for magic beans (or so the seller told him!). His mum would be furious if she found out he had come back with beans so he asked us to look after them for him.
"He told us he had hidden the beans in our classroom. We had to hunt for them. We each got one to look after." explained Grace C.
We also have our own magic beanstalk growing in Holly Class.
"The beanstalk keeps growing..." said Edward.
Vinnie added, "...It only grows in the night. That's when it comes alive."
We have been going bean mad in all areas of our learning...
"We played a bean game in PE." said Francesca.
"There was baked bean. We had to lay down and pretend to sunbathe." Bailey recalled.
"There was a frozen chilli bean. We had to pretend we were cold." added Grace C.
"...and there was a runner bean. We had run fast." said Esme.
We have also had the Beebots out. We have programmed them with simple algorithms to travel from Jack's house to collect items such as the harp, golden eggs and magic beans without bumping into the giant's castle.
Outside we have weeded the garden plots and have started planting flowers. Tommy brought in a sunflower he had grown from a seed at home so be sure to have a look at it as you walk past the outside area.
Inside we have begun some growing experiments...
"We planted seeds in the tuff tray. There are stones, some sand, soil and grey, flat stones (slate)." Edward described.
"We had to guess where the seeds would grow best." Beth explained.
On the way to school Esme and Grace C found some beens so we have put them into glass jars so that we can watch them germinate.
Please enter some content for your blog post here.