Nyewood CE
Infant School
Smiling, Caring and Learning Together on a Journey with God
Hello from Mrs Mitchell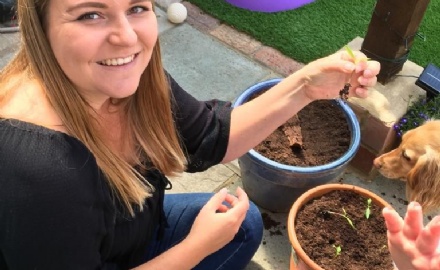 Hi everyone!
I hope you are all enjoying the sunshine during the half term break. I have had lots of fun this week! I went down the beach with my doggy and my little girl. We built lots of sandcastles and my dog really enjoyed digging big holes!
We have been playing in the garden lots and splashing in our paddling pool. Even the dog joined in! The water really helped to cool her down.
We have been growing some seeds by the kitchen window. They grew strong enough to be planted outside. I had to carefully dig them out of their old pots and plant them in bigger pots in the garden. I could see all of their roots! They seem to like their new, sunny spot. I'm really excited to watch them grow even bigger! When they do, they should grow some peppers because they are pepper plants.
I also fixed my bike and bought a new helmet so I can go on some new adventures!
I am really missing you all!
Keep safe and stay well,
Mrs Mitchell