Nyewood CE
Infant School
Smiling, Caring and Learning Together on a Journey with God
Wednesday 1st April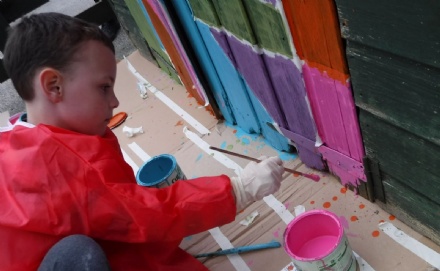 Yesterday in school, we wrote some letters and postcards to our everyday heroes such as firefighters and the police. We then had lots of fun creating a stained glass window on the EYFS shed. In the afternoon, we went outside and collected lots of natural materials which we used to make self-portraits. We hope you have been enjoying your home learning too!
Please find today's home learning below.
Reading
In reading this week we will be focusing on the super six skill of Making Connections. Using a book of your choice, have a go at making connections between the story and your own experiences.
How would you feel if you were in this situation?
Have you ever done this before?
What happened afterwards?
Writing
At the moment in Writing we will be focusing on writing letters. Today we will be re-writing our letters using our changes. Make sure you use your neatest handwriting! Now you have written your letters, it's time to post them or you can keep them to show us when you come back to school.
Mathematics
Set up a shop at home using your toys. Give each a price label. Invite people to come to your shop and work out the totals of things they buy.
https://www.topmarks.co.uk/money/toy-shop-money
Blue – Prices up to 10p
Yellow - Prices up to 20p
Red – Prices up to and over £1
Topic
If you have access to the internet, can you safely use it alongside an adult to research some jokes? Share these with your family and have a laugh!
Maybe you could even be creative and write your very own joke!