Nyewood CE
Infant School
Smiling, Caring and Learning Together on a Journey with God
Thursday 9th April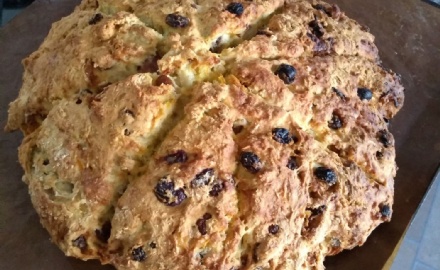 Hi, its Mrs Macrae today.
It has been very strange being at school without everyone being there. I bet you are all growing fast with all this nice weather, I know my son is! I hope you are making your own fun at home, I have been looking at all the photos your parents have been sending us. I have been busy at home with my children, helping them do their school work. With this nice weather I have decided to paint our fence, but it seems that I got as much paint on me as I did the fence! I have also been busy cooking and trying out new recipes. The photo is of my fruit loaf. It is very easy to make, and I wonder if any of you could try and make some and post us some pictures of your loaves.
Fruit Bread
500g plain flour

1 tsp salt

2 tablespoons sugar

1 teaspoon bicarbonate of soda

50g vegetarian suet, or about 30 ml of oil

200g dried fruit (sultanas, raisins, or whatever you have at home)

1 orange, zest only

1 lemon, zest only

400ml buttermilk (or just normal milk with a tablespoon of lemon juice added, and leave to stand for 5 minutes)
Method
Preheat the oven to 220C/200C Fan/Gas 7 and line a baking tray with baking paper.

Put the flour, salt, sugar, bicarb, suet, dried fruit and citrus zest into a bowl and mix really well.

Make a little well in the centre and pour in the buttermilk (and oil if you are using it), using a palette knife to bring the mixture together. Tip it out onto a work surface and gently bring the dough together, without kneading it – you don't want to overwork it.

Place the dough onto the prepared baking tray and flatten it down, then use a sharp knife to make four cuts all the way through, to create eight triangles. Bake in the oven for 30 minutes.

When the bread comes out of the oven, leave it to cool on a rack for 15 minutes (if you can resist the urge not to eat it straight away!)

To serve, pull away the triangular wedges of warm bread and spread them with butter.

We love seeing everything that you have been doing at home, keep it up.
A riddle for today:
What goes up but never comes back down?
Answer:
Your age!
I hope you all have a lovely Easter and can't wait to see pictures of what you have been up to.
Keep your selves safe and be kind and helpful to your family.
Love Mrs Macrae