Nyewood CE
Infant School
Smiling, Caring and Learning Together on a Journey with God
Happy Easter Monday!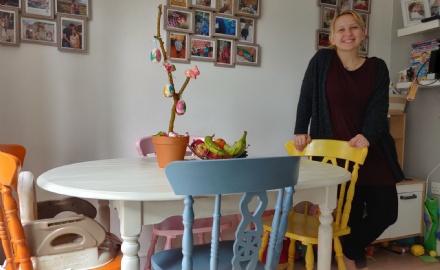 Mrs Kujawa and Mrs Greenway are sending their news from home today. Read on to find out what they have been doing.
Stay safe and look after each other at home.
See you soon,
Mrs Lawlor
News from Mrs Greenway:
Hi kids!
I hope you've been enjoying your time at home doing your learning but having fun too!
I've been busy at home with my two little ones doing lots of painting and crafty activities, can you spot the Easter tree I made on my table?
I'm standing by this table because as a little project to keep me busy I painted it all bright colours, it used to be brown but now it's bright and colourful ☺️ .
I look forward to hearing what you've all been up to soon!
I'll leave you with this joke:
Where does a cow go out on a Friday night? The MOOvies 🤣

Love Mrs Greenway x
Read on to find out what Mrs K has been up to...
Hi Everyone! Mrs K here 😀

I hope you are all ok and having lots of fun at your homes.
Since the school closure I have been at home too. I have enjoyed spending time with my family. We had fun playing together all sorts of games: Hide and Seek, Snap, Monopoly, Snakes and Ladders and our favourite - Hedbanz guess game. We even had a singing and dancing competition in our garden.😀
We have been very creative by doing decorations for Easter.
We have also enjoyed playing with our two budgies. They love to fly around the room and land on our heads, shoulders, fingers and play with toys.
I finally found time to clean our garden, clear out toy boxes and wardrobes. I prepared all unwanted toys and clothes so I can give them away to charity shops once they reopen again.
A funny thing happened to us yesterday. We have found lots of baby fish at the bottom of our fish tank!
I can't wait to tell you all about them. Hope to see you all very soon.
Have a lovely time with your families.

My jokes for you:

What is a photographer's favourite card game?
SNAP!

What's a scientist's favourite dog?
A lab.

Happy Easter Everyone!
Lots of love from Mrs Kujawa😀 Xxx