Nyewood CE
Infant School
Smiling, Caring and Learning Together on a Journey with God
More than, less than and writing stories.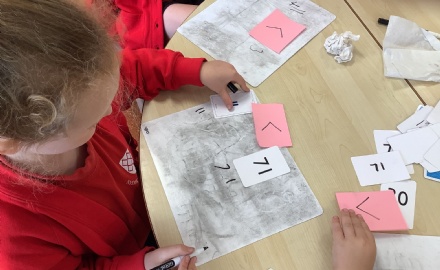 What a busy week in Apple class!
We have been busy learning about these symbols in Maths < > = Lots of comparing of numbers has happened this week and we are brilliant at saying how we know when one number or amount is more than or less than another.
We have been busy using our writing skills to retell the story of Pumpkin Soup in our own words. Some of us even illustrated our stories too.
In PSED we have been thinking about information we can find online and how to check if it is true or not. We checked facts using the Internet and our own knowledge and found Miss Wells on our school website.
In PE, our fitness and agility continues to improve and we practised The Stepper this week. How many steps on the spot can you do in 30 seconds? We used the ipad to time the intervals and counted our own steps carefully to see if we could improve over time and with practise.
Have a super weekend!