Nyewood CE
Infant School
Smiling, Caring and Learning Together on a Journey with God
Hello From Mrs McCormack!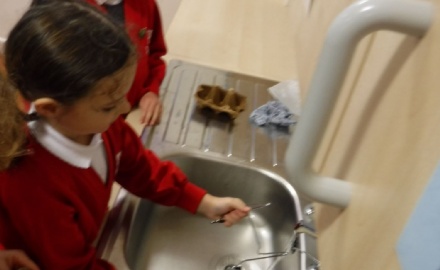 Hello Sycamore Class!
What a busy week we have all had. I have loved seeing some of your work, you are all doing such a great job.
In maths this week we have looked at fractions. In school we had lots of fun cutting different things into halves and quarters.
What did you manage to cut up? Did you cut an apple in half or maybe a pizza?
During science we are looking at lots of different materials and if they are waterproof. Some of the children at school became scientists and we did some experiments to see which materials let the water through and which materials didn't.
Did you find any waterproof materials? Do you think any of those materials would be good to make a boat?
The weather has been a little bit grey this week but I still like to go into my garden and get some fresh air. Have you been playing in your gardens or outside? Have you managed to see any new plants growing? I love seeing the signs of new life, it makes me feel very grateful.
I miss seeing you at school and I hope you are all staying well at home. Remember to give your grown up's a big hug and thank them for helping you to learn at home too.
Just before I go I have a riddle for you
What begins with T, finishes with T and has T in it?
A teapot.
Take care of yourselves and each other, keep sending us your amazing work as we all love to see it.
Mrs McCormack