Nyewood CE
Infant School
Smiling, Caring and Learning Together on a Journey with God
Hello from Mrs McCormack!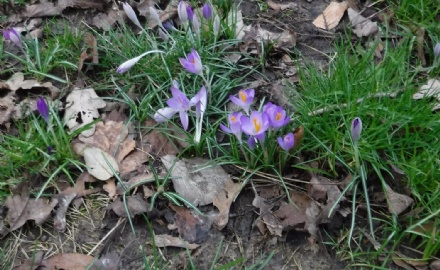 Hello Sycamore Class,
Mrs McCormack here. How are you all? I hope you all have all had a lovely week.
It has been brilliant seeing all of your work and the things that you have been doing during your home learning but I have especially enjoyed seeing all the great things you have been doing to support your wellbeing and happiness.
I loved watching the video from Miss Rice yesterday and she read one of my favourite books. It reminds me that if I put my mind to it I can do anything, just like the tiny snail. I also love how the whale and snail became friends and how the tiny snail helped the great big whale. It shows us all how if we work together than amazing things can happen.
At school we have been thinking about some ways to be active and having mini challenges. We did some jogging on the spot, taking a nature walk and jumping like a frog. We also talked about what makes us smile and how we can make others smile by doing a 'random act of kindness'.
I think it is really important to make sure we understand how we are feeling and know that it is ok to feel that way. Sometimes you might feel happy, sometimes you might feel sad and sometimes you might feel confused but it really is ok to feel all those feelings.
I love to help children to understand their feelings. We can do things to help our control centre in our brain to manage our feelings and make us feel better.
Here are some things that I like to do, maybe you might like to do them too.
Create a happiness jar
Make a jar for happy memories. When good things happen, you can write it down on a piece of paper, fold it up, and put it in the jar. These things can be big like going for an amazing nature walk or receiving a present from someone or small like the sun was shining or you heard a bird sing beautifully.
Can you think of a few happy moments in the past week? Reminding ourselves of the good bits of life in this way not only help lift our mood but can help to build gratitude for everything you have.
Take a moment to breathe
Can you put aside between 10 minutes and half an hour to relax. Maybe you can use the time to focus on doing as little as possible. It should be time to just let yourselves 'be' and reflect and think about your day. Maybe you can make a peaceful space where you will find it easy to take time out and relax. You could even try listening to some calming music while you do it.
I am so grateful that I get to write to you this week and am really grateful for all the amazing signs of spring that I have seen this week too. I am going to put those things in my Happiness Jar.
We are all really looking forward to being back together again and we hope that that is really soon. Take care of yourselves and your families, you are ALL amazing and doing a brilliant job.
Mrs McCormack